Fast, Easy Data Integration
Fast, Easy Data Integration
Kalido can take your fragmented data from across multiple platforms and give it back to you - better - in a fully accessible, actionable state so you can optimise its power. Your Kalido Network is completely customisable so you can strengthen your employer branding and have full control over your data. It's your brand, powered by our AI.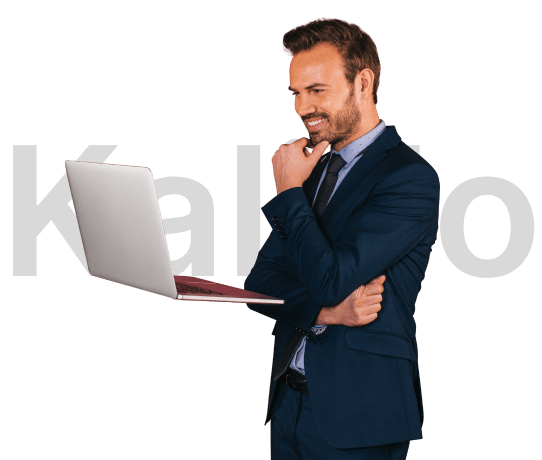 You can assign dedicated members to Network Roles with different permissions to manage the Network collaboratively and increase member engagement. Kalido gives you Standard Roles with a hierarchy of permissions. But if none of them suit your needs, you can create as many tailored Custom Roles as you like.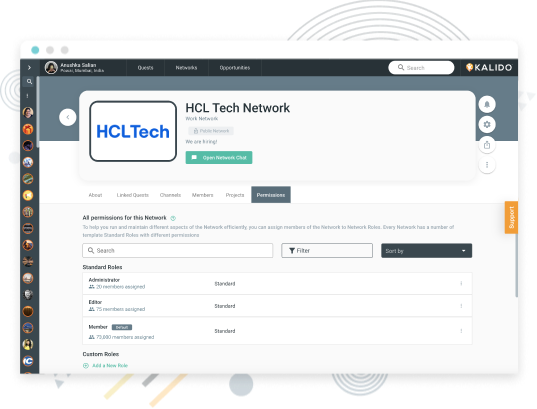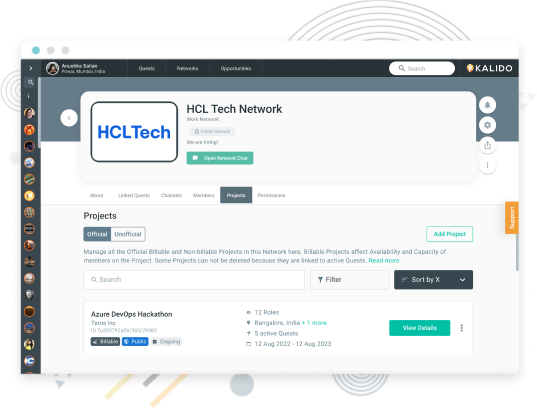 On Kalido, you can define pieces of work as Projects, whether they are short-term or complex pieces of work that span years. This means you staff them quickly and more effectively. You can see all the Roles assigned to an Official Project and the CVs associated with it, giving you a detailed, comprehensive overview. You can also start a Find People For Project Quest from inside the Project itself to build a Project team, fast.
A Position reflects an official job title within your organisation. It can have a description, a Band and Skills associated with it. Official Positions are managed by people in your organisation with relevant Network Permissions. They record how your company thinks about its Skill groups and the people in them. If a Find People for Projects Quest specifies a Position, Kalido will make staffing your Projects faster and more accurate by automatically suggesting all the Skills associated with the Position as required Skills for the Quest.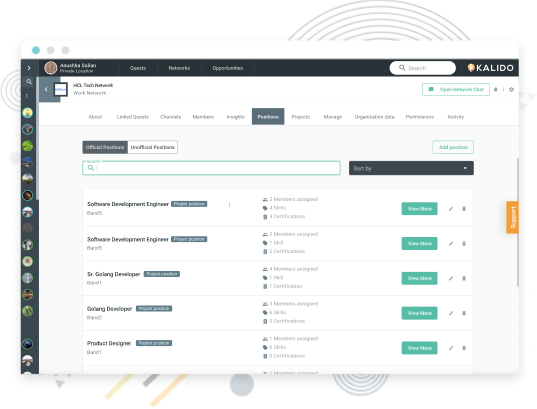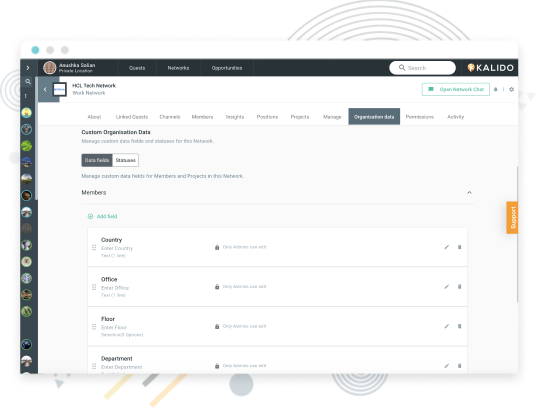 You can add Custom Organisation Data for each employee. You'll be able to see where colleagues are located, which team they're on, and any unique employee data. It can help you and your colleagues to be more co-ordinated, with all the information you need to interact and staff projects without having to leave the platform. Kalido can pull in this data from your company's records - or it's easy to add manually. Now you can experience the power of Kalido's AI presented through your own employer branding. We take a best practice approach to information security and hold the ISO 27001 certification.
Our Reporting feature captures your company's organisational structure and dynamically builds your organisation chart. You can see at a click where a particular employee fits in to your company. It also lets Kalido know who can give Manager Ratings to each employee: these are crucial for helping to build a full picture of a person's Skills, and to help match them to the right Opportunities.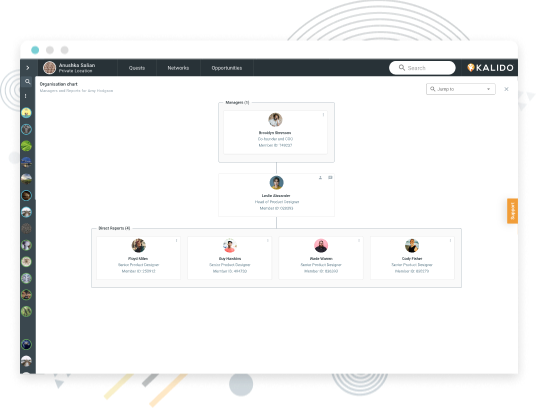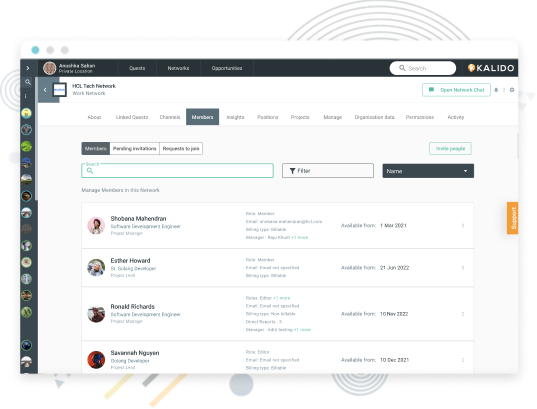 This feature determines whether an employee directly generates revenue for your organisation. It's really helpful for running analyses of costs and availability. Every organisation has many roles (usually executive, managerial, or support) that don't generate revenue: these are Unbillable People. It's important that Unbillable People can be specifically flagged, so that they don't end up dominating analyses that should only affect Billable People. It also empowers Project Administrators to staff Projects with the right people.

Increase Engagement
Boost inclusivity and engagement with smart collaboration & interest discovery

Single Source Collaboration
Collaborate smarter and faster with single platform communication tools

Internal Talent Marketplace
Re-imagine internal hiring to create a future-ready & an agile workforce

Alumni Connectivity
A natural extension and expansion of your skills and opportunity network

Rich, Dynamic Profiles
Deep rich employee profiles for higher visibility and opportunity matching
'Right Person, Right Work' Talent Solution
Transform your workplace with Skill-focussed Mapping & Skill-focussed Hiring